Fourth Retreat of the DFG Research Unit COSIMA
Fraueninsel Chiemsee
27.03.2019 – 29.03.2019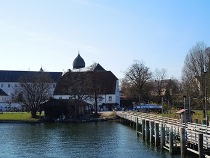 The COSIMA team met in March for the fourth time on the Fraunchiemsee Island for a three-day research retreat.
The main focus of the retreat was the further development of the theoretical model of the group on the basis of the conducted studies and the preliminary results. To that effect each project was presented and discussed individually with regard to the particularities of the procedure and the preliminary results.
Prof. Dr. Dr. h.c. Detlev Leutner from the Department of Instructional Psychology at the University of Duisburg-Essen and Prof. Dr. paed. Knut Neummann, the head of the Department of Physics Education at the IPN - Leibniz Institute for Science and Mathematics Education, joined the retreat as external guests amd contributed with their valuable expertise to the discussions.
The COSIMA team also welcomed Dr. Christian Förtsch (TP3), Dr. Daniel Sommerhof (TP 2), Dr. Matthias Stadler (TP M) und Prof. Dr. Doris Holzberger (TP M) as members in the renewal proposal.
The COSIMA research unit is preparing for an expert evaluation of the DFG which is scheduled for September 2019.